PC to phone calls with PC VoIP
Turn any PC or laptop to full-functioning telephone
What is PC VoIP or PC to Phone?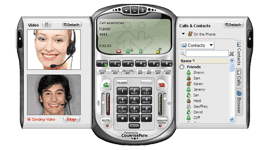 PC to phone is an option for all Boloh users so that they can turn any PC or laptop into a full-functioning telephone.
With our free PC to phone software you can make calls to any phone in the world using your computer with the lowest rates and make free calls to other Boloh users.
Simply download our free software to your laptop, pc and within 5 minutes you will be able to make PC to phone calls to any phone from any high-speed / WiFi location on the planet - no equipment needed. Just use your headset, it's that simple.
With PC to Phone calling you can call other Boloh softphone users around the world for FREE.
How PC to Phone Works
Using PC to Phone is so easy to use. Follow the steps below and
1.) Sign Up for our VoIP service. (Phone Card users don't need to open a new account and can use their Phone Card account information to use PC to Phone)
2.) Download the PC to Phone software from the link below.
3.) Install it on your computer. Open the application and configure according to your account settings using our configuration guide.
4.) Connect a headset to your computer, or use speakers and a microphone.
5.) Start Talking.
Calling Rates

Boloh PC to phone service with Pay-as-you-Go plan has no contract, no monthly fees, no setup fee or disconnection fee, no hidden fees and offers,
• 3 pence calls to anywhere in the USA, Europe and 28 countries and very competitive international rates for other destinations of the world
• FREE calls between other Boloh customers
• Free calling features like voicemail by e-mail, Call Forwarding, Caller ID and many more
• 30-day Money Back Guarantee
Get started for as little as £10 prepaid credit (for calls to the 28 countries, that'll hold you over for up to 300 minutes!). 
Sample VoIP Rates for some popular calling locations are as follows;
| | |
| --- | --- |
| Argentina 3p - 6.4p /min | Italy 3 p/min |
| Australia 3p /min | Japan 3 p/min |
| Brazil 3p - 6.8p /min | Mexico 3 p/min |
| Bulgaria 6.1p - 6.6 p /min | Nepal 9.5 p/min |
| China 3 p/min | Pakistan 9.2 p/min |
| Colombia, Bogota 6 p/min | Philippines 15.2 p/min |
| France 3 p/min | Poland 3 p/min |
| Germany 3 p/min | Romania 6.2 p - 8 p /min |
| India 9.8p - 11.6 p /min | Russia 3.3p - 5.6p /min |
| Iran 6.5p - 10.5 p /min | Taiwan 3 p/min |
| Iraq, Baghdat 9.1 p/min | Ukraine 10.2 p - 11.8 p /min |
| Israel 3 p/min | Vietnam 11.6 p/min |
See all International calling rates
Softphone Features
Your VoIP VoIP Softphone works seamlessly with your other advanced VoIP Features. For example, if you have virtual phone No., than you can take a call even while you're on the road.
The dialing interface looks just like the picture above. Simply point and click to speak through your computer. We highly recommend that you use a quality headset with a microphone rather than relying on the audio input/output devices that come standard with your computing equipment.
Your VoIP SoftPhone works with PCs, Macs, Laptops.
Whether you're a road warrior or just looking to enhance your productivity at home, PC to phone calling opens up a whole new way to communicate.
Free Download
Download now and start saving on your phone bill right away.
Configuration Guide
Click here for easy configuration guide of the softphone.
Signup

Signup Now
VoIP Service
Need Help?